We 're about halfway between the last slam and the next slam and, we're very excited to kick off another year of storytelling. When we booked the April date ten weeks after the Grand Slam, we didn't realize how much we'd miss you. But we do. We miss you. And we're excited to hear your tales of LOST AND FOUND on April 27.
Did you see the article in the Daily Camera? We shared it on Facebook, but never shared it to this list, so click HERE if you didn't see it yet. Big thanks go to Mark Collins for the story.
Speaking of Mark Collins, he'll be one of our featured storytellers for April. We've read so many stories he's written about other people. Now we get to hear him tell a story about himself. You won't want to miss that!
We'll also be featuring Katherine Millersdaughter, our 2013 Grand Slam Champion, and Joan Bruemmer-Holden, a local theater celebrity.
Here's info about our featured storytellers for April. Be there on April 27 with your own LOST AND FOUND story, and you'll get to hear these local wonders tell theirs!
Joan Bruemmer-Holden
Joan Bruemmer-Holden received her MFA-Contemporary Performance from Naropa University and her BFA at New York University's, Tisch School of the Arts, Experimental Theater Wing. She is faculty in Graduate Performing Arts at Naropa University. She is also a member of The Catamounts and a founding member of Band of Toughs and WreckingBall Theater Labs. She is an artistic associate for square product theatre. She is a newlywed and loves beer and cheese. Telling a story as herself is maybe one of the more terrifying things she has ever done, except getting married at 47.

Mark Collins
Mark Collins has written more than 2,000 stories — all of them true, but probably not all of them accurate — for area newspapers and magazines. He also acts and paints houses. Most Sunday evenings, Mark Collins is at home making Indian food.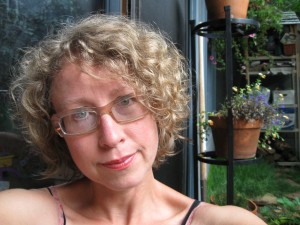 Katherine Millersdaughter
Truth Be Told's Grand Slam champion in February, Katherine plays at her work of teaching literature, and she works at her play of slow cooking, fast walking, and soft talking about truth, beauty, and other such ridiculous notions.  She writes daily, eats hourly, drinks secondly, and collapses every night with a shot of Sambuca in one hand and a self-help book in the other.  Finally, she parents two lovely girls and, being the worst housekeeper in the history of all housekeepers, donates quite regularly to a local, if crumbling fund that feeds an ever-growing number of adorable little mice.