We are beyond excited about our Featured Storytellers for the upcoming Grand Slam. We're delighted to welcome them back to the Truth Be Told stage, February 22nd! Read about them here.

Jim Walker
Professional improviser and actor Jim Walker has performed with Colorado Light Opera, Boulder Ensemble Theatre Co., the Catamounts, the Didactic Duo, & many others. An instructor of Writing at CU, he is the co-creator of several Fringe favorites including A Brief History of Intercourse, Bedfellows!, and One Act. His original, one-man musical exploring sexuality & inclusion — Normal Heights — recently toured England and won "Best International Act" of the Brighton Fringe. In Boulder, he performs regularly at the Dairy Center for the Arts with Playback Theatre West and One Act Improv.
Morley McBride
Morley McBride is a consultant and creative strategist for organizations and sustainable product companies. She is a Moth NYC StorySlam winner and GrandSlam storyteller. When not indoors, she is frequently found outdoors​.​
Eryc Eyl
Eryc Eyl has been a fry cook, pet store cashier, sander of plastics, bread delivery man, landscape detailer, party store builder, greeting card signer, library shelver, editorial assistant, barista, vitamin salesman, complaint department clerk, advertising failure, buyer of servers, music journalist, help desk supervisor — and that just gets us through the '90s. Officially, he's currently a professional writer, speaker, coach, and consultant who helps people keep their heads and their hearts while keeping their jobs. Unofficially, he is also DJ Savior Breath, a party starter who dresses like the Pope and plays mashup and remix music that compels people to dance, smile and lose their inhibitions.
Ellen Nordberg
Ellen Nordberg's articles and essays have appeared in publications from The Chicago Tribune, The Denver Post, The Huffington Post andParade.com, to 5280 and Boulder Lifestyle, as well as on NPR. She has performed in the Boulder Writer's Workshop Comedy Contest, Denver's "Listen To Your Mother" Show, Boulder's "Truth Be Told," and "The Narrators." Ellen won a lip synch contest in the 80s for the song, "It's Raining Men" which included plastic army men pelted at the crowd. She lives in Louisville where she teaches water aerobics and bounces around on Kangoo Jumps boots.
Glenna Murdock
Glenna is a registered nurse and magazine feature writer (mostly about nursing, but also bicycle racing), mother of one, grandmother of two.  Enjoys performing in community theater, wedding photography and tent camping with her grandchildren (ages 5 and 4).  Married for 49 years (in June) to longtime bicycle racer, Jim–a.k.a. Crash–Murdock. Attributes longevity of marriage to having no gun in the house. Proud of hillbilly Ozarkian roots. Has lived in the same house in LOVE-land for 41 years.
Lindsay Bourgoine
Lindsay recently (and reluctantly!) left Colorado and her position as Advocacy Manager for the Outdoor Industry Association to pursue a masters degree at Vermont Law School. With a passion for politics and the great outdoors, Lindsay has always sought out opportunities to advocate for conservation and recreation. Prior to her move to Colorado, Lindsay (a Mainer) lobbied at the Maine State House for the Appalachian Mountain Club and developed the Maine Outdoor Coalition. When she's not raising a ruckus on a policy issue, you can find Lindsay hiking, biking, running, or skiing deep in the mountains, and while doing so, typically wearing a significant amount of neon.
Traci Brown
Traci Brown is a body language expert and a leader in training people to persuade and influence.  She travels the world teaching corporations and associations how to hear "Yes!" from others more easily and more often.  She even trains lawyers how to pick and persuade a jury using body language. She's a frequent guest on TV interpreting the body language of criminals and politicians.  (And sometimes both labels describe the same person!)
When she's not on the road she skiing or riding her bike.

Ted Weaver
Ted Weaver has lived in Nederland, Colorado for 25 years, where he and his wife raised their son Sam. He is the president of a small management consulting firm that specializes in sustainable energy strategies. He likes to ski in the winter and swim in the summer and has been coming to the Truth Be Told Story Slams since mid-2014.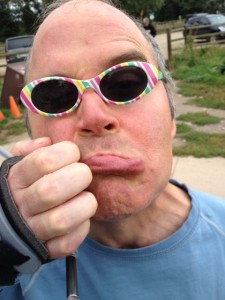 Michael Mathieu
Michael Mathieu grew up in Oakland Maine on Messalonskee lake  which holds the worlds record for the largest white perch. He also happens to know the recent world record breaker for balancing a dozen eggs in one minute and 6 seconds.