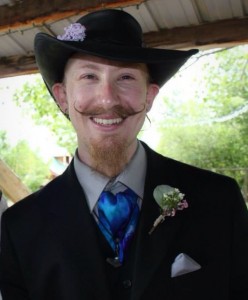 Cooper Braun
Cooper Braun was born in Boulder, Colorado. He grew up without a television and so found a love for storytelling from records and cassette tapes. Drawn to performance and theater from a young age, Cooper started as an actor, has a BA in Theater from Union College and has been working as a professional theater technician the last nine years. Returning to the world of live storytelling two years ago he now co-hosts the Boulder Story Circle, and is a member of the Rocky Mountain Storytelling advisory board. He performs regularly in Longmont and Boulder. He makes up one half of the storytelling duo Stories with Spirit.
John Forrest
John Forrest is the alter ego of some other dude, who's married to the talented and extraordinary Shana Cordon. Forrest is a writer of stories wondrous, with fictions in Crossed Genre's

Fierce Family,

 Analog Science Fiction and Fact, Envisage, Apex, and elsewhere. His most recent collection of short tales, 

Delicate Ministrations,

 is out now, along with a novel, A

Requiem Dawn

, published in January. You can learn more about him at

jlforrest.com

.