Barbara Gehring
Barbara Gehring was born and raised in Winnipeg, Manitoba, Canada. Ms. Gehring's professional career of 23 years as an actress has run the gamut from stage to screen to commercial to voice work, which has made her one of the busiest actresses in the Denver market. A veteran of improv, sketch comedy and theatre, she is also the co-creator, playwright and actress in the national hit show, The Secret Comedy of Women- Girls Only.® and has dazzled audiences nationally with her energetic performances. Alongside her long-time creative partners known as A.C.E., she was commissioned by the DCPA to create an immersive adventure comedy, Travelers of the Lost Dimension which was produced in 2017. Most recently, her new play, For the Love of George, was workshopped at Denver Center's Conservatory Theatre. She is also a 4th degree black belt and teaches Okinawan karate and kobudo at her studio Iwa Dojo in Broomfield. When not performing on stage or on camera, she can be found playing in the sandbox of life with her children Isabella and Gavin and her playmate for life, Paul. www.BarbaraGehring.com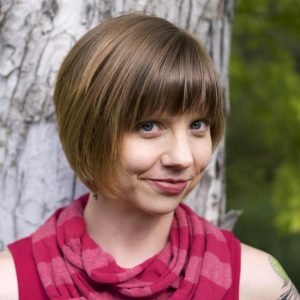 Kate Jonuska
Kate Jonuska is a Colorado native and DU creative writing grad who went into journalism after college to pay the rent. She has since collected a decade of experience writing magazine and newspaper features for outlets like the Denver Post, the Daily Camera, The (Colorado Springs) Gazette and Boulder Magazine, specializing in food, fitness, travel, and arts and entertainment. Her passion, however, has always been for story – specifically fiction. With a writing style best described as Margaret Atwood meets Amy Schumer, Kate's short fiction was nominated for a 2015 Pushcart Prize, and her first novel, the dark comedy Transference, published in 2017. Keep up with kate at www.katejonuska.com or on Twitter @kjonuska.
Michael Ensminger
Michael is an artist and photographer who was born and raised in Germany. After graduating from high school he moved to the US and graduated from the University of Colorado in Colorado Springs. Thirty years ago he made his home in a grungy industrial part of downtown Denver that some people had trepidations about visiting. He still lives and works there, but now it's in the heart of what is called the RiNo District. In his case, the mountain actually did finally come to Muhammad! You can check out some of Michael's stuff at michaelensminger.com.
GET YOUR TICKETS TODAY to hear these great storytellers and more on June 24th at The Dairy Arts Center.