Meet our Featured Storytellers for the GRAND SLAM March 3rd!
Jennifer Seriously
By day, Jennifer is a technical writer obsessed with bullet lists, concision, and linguistic consistency. By night, she fights her impulse to be a grammar pedant by attempting creative writing. She blogs regularly and has just finished writing her first young adult novel, which she hopes an agent will pick up soon. She and her grumpy, 12-year-old Finnish Lapphund, Trotsky Bear, live in Boulder but get lost in the mountains most weekends
Jeff Marsh
Jeff Marsh is a recently retired technology project manager in the Boulder metro area happily transforming his avocation of storytelling into the joyous pursuit of writing, performing and enjoying tales told. After a 22-year hiatus, he is working his way back into telling. Of late, Jeff has been performing tales that have included personal stories, original fantasy works, classic fairytales and the short stories of several science fiction authors. He is currently working to expand his repertoire with a collection of canine tales so people can accurately describe Jeff as going to the dogs.
Kat Atwell
Kat Atwell is a comedian and a passionate mental health advocate. She's been fortunate enough to share stories on many Colorado stages including The Narrators, Write Club, Ignite Denver, Mortified, Open Labs, and is a Moth StorySLAM winner. She also performs with At the Barre, an all-female dance and improv troupe. You can find out more about her at katatwell.com. Huge thanks go out to Nina, Johanna, Kira, and the whole Truth Be Told crew for creating such a magical storytelling community!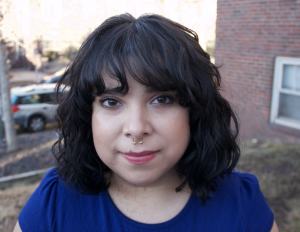 Edith González
Edith González was born in Brownsville, Texas to Mexican Immigrant parents. They taught her the importance of knowing her heritage while navigating a culture foreign to their own. Edith has always sought out creative outlets from film production work to being a Bollywood hair and makeup artist. She is new to storytelling but has found anew thirst for writing and sharing poignant and sometimes embarrassing anecdotes of her life. Edith González now owns and operates a small Denver based business with her husband. In her personal time, she loves to be with her dog, cat, 6 rats and 21 tarantulas. Her neighbors wonder if she might be a witch.
Morgan MacInnis
The list of what I can do is longer than the list of what I can't. From fiber work to metal work, construction sites to cappuccinos, I have dabbled. There are those who have called me a Jack of All Trades, Master of None. But you see they are wrong. My name isn't Jack, it's Morgan.
I grew up in Boulder Valley, one the rare few who can truly call this place home. In 2008 I moved to the Pacific North West, to make my mark on the world I guess; Spoiler Alert: Chief Niwot's Curse is totes a real thing. While I was living in Olympia Washington I stumbled into a story slam the way one chooses a piece of chocolate from a box to which they've lost the sheet that tells you what all the flavors are, not knowing what to expect but not entirely disappointed with the result. I guess we can draw a straight line from there to here.

Renee Weisinger
A 3rd generation NYC- grown girl, happily transplanted in Boulder, Renee is still exploring how many passions she can pursue until she grows up! Painted, published, performed and panicked (over her story title!), she commits to alliterations with more tenacity than any single career-path. In between running her successful Airbnb and sharing Hemp oil with the cannabinoid crazed masses, she enjoys all things Colorado, music, art, friends and family with the voracious gusto of a lifelong foodie. Mantra: Bite life in the ass keeping visible bruising to a minimum!

Dory Johnson
When Dory Johnson was little she liked to ham it up with her friends & pretend she was in a rock band… that looked like standing on top of a rock and strumming on a tennis racket and singing on a hairbrush taped to a mop. But since she never actually learned to play the guitar (even though she was given 2 guitars) or start a band, she instead became a photojournalist and a portrait photographer opening Olac photography for 16 years watching people and listening to them express themselves. This is carried over into her skin care business- Skin Care with Dory- where she encourages people to take care of their skin and love what they see.
Amanda McCracken
Amanda McCracken is a freelance writer. Her writing combines her passion for athletics, communication, travel, the human body, and connecting with people. A few of the places she's been published include The New York Times, The Washington Post, Elle, ESPN, Runner's World, and Outside. Her writing has landed her interviews with Katie Couric and Huffington Post radio. Amanda is also a massage therapist, triathlon coach, and a competitive athlete. She grew up in Cincinnati, Ohio. She loves eating peanut butter by the spoonful, traveling on a train through France, running trails in the mountains, and swapping stories with her grandmas.
GET YOUR TICKETS TODAY to hear these great storytellers and more on March 3rd at The Dairy Arts Center.